Ever had your WordPress website hacked? Want to keep if from happening again? This week on the Late Night Internet Marketing Podcast, I talk all about my holiday excitement which involved 17 (count 'em, 17) hacked WordPress websites.
I also discuss the new "State of Blogging" report from ConvertKit.
Show Notes
Show notes are coming soon.
Here is the message that I received from Google….this will really make your stomach hurt. Especially when they start coming in for multiple sites one right after another – "WordPress Website Hacked".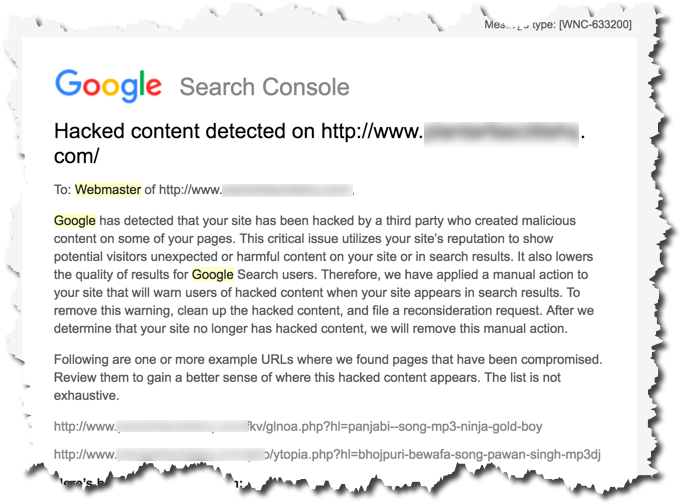 Here is that video about the candle that a promised at the very end of the recording.
LInks Mentioned In This Episode
Want More Late Night Internet Marketing?
Help Me Help You
The more I hear from you about your struggles, trials and tribulations, the more I can help. So, be sure to leave comments on this post to reach out to me on Twitter @LateNightIM or on the LateNightIM Facebook Fan Page.
I'd love to hear what you think about the podcast. Better yet, I'd love to answer your question about Internet marketing on the show. Just drop me a line here on the blog or on the digital recorder at 214-444-8655. Don't worry, there are no stupid questions. Unless you tell me not to, when you ask a question or leave a comment might even use it on the show.
Help Me Help Others
Thanks so much for your reviews on iTunes. We get a ton of exposure from iTunes, and we really appreciate the reviews there. At last count, we were over 100 reviews worldwide and counting. Reviews help us get new listeners — so I really appreciate you taking the time to leave a review. To leave a review, just go to <a href="http://www.latenightim.com/itunes">latenightim.com/itunes</a> and follow the instructions. Thanks!
Transcript for WordPress Website Hacked
The transcript for this episode of the Late Night Internet Marketing Podcast is still baking in the oven, but it will be ready soon. Please check back in a few days.