Content workflows and the associated content workflow software can make the difference between success and failure when you are working on you own business. With so much to do, it's important to have a streamlined content creation process that keeps things moving even if you get interrupted.
This week on the Late Night Internet Marketing Podcast, I share my content workflow and a couple of the tools that I use to keep things moving. We also discuss some listener feedback about show consistency.
By the way, in case you missed it, last week I discussed Imposter Syndrome. If you have ever wondered if you have enough expertise to publish on a topic, that is the show for you.
Next week I'm planning on talking about the Late Night Niche Site — so be sure and tune in for that one!
Show Notes
One of the key things in getting content out regularly is having great workflows. A workflow is a set of steps which you follow from start to finish in order to get something done. These steps can be overwhelming for those who are not working on their business full time so here are some tools which can dramatically improve how you organize things:
-Ulysses – best tool in organizing templated data. It's made up of hierarchal organizational note cards which you can fill out, drag around and publish in different formats once you are done. It has a jigsaw-like ability which is nice for putting things together. With regard to workflow, I have created different cards for different parts of the show, made a template, duplicated them for each of the show and updated it as I go along. It is a plain text tool and syncs excellently across Apple devices.
-Sublime Text, One Note and Write Plus – the closest equivalent to Ulysses for those in the Windows platform.
-Zapier – an automation app that I use which monitors activity and when there is an activity, assigns specific people 'tasks' which, collectively, are called 'zaps'. It's a powerful tool and the user interface is fantastic.
Internet Marketing Fortune Cookie : "You will soon be the center of attention."
I mentioned a review in the episode. Here is a screen shot of it.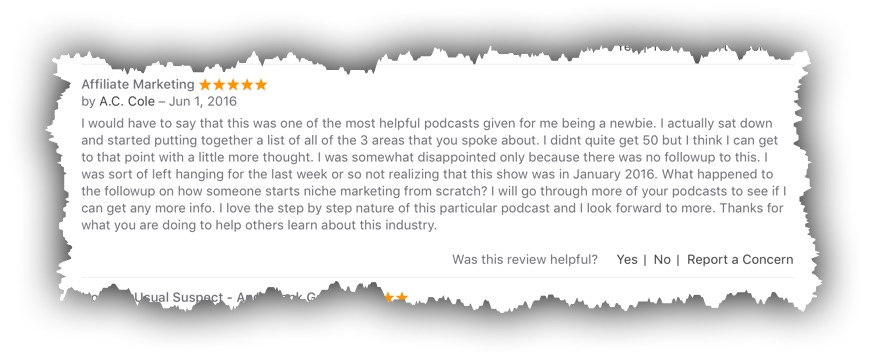 Here is that tweet from the good folks at Zapier that lets you know how to pronounce (hint — Zapier rhymes with Happier).
How do you pronounce Zapier? It rhymes with happier. 🙂

Zapier makes you happier.

— Zapier (@zapier) September 3, 2014
Regarding Zapier, here is a screen shot (also promised in the episode). In this shot, you can see my new podcast episode automation. This is the actual automation that will trigger when this episode is published.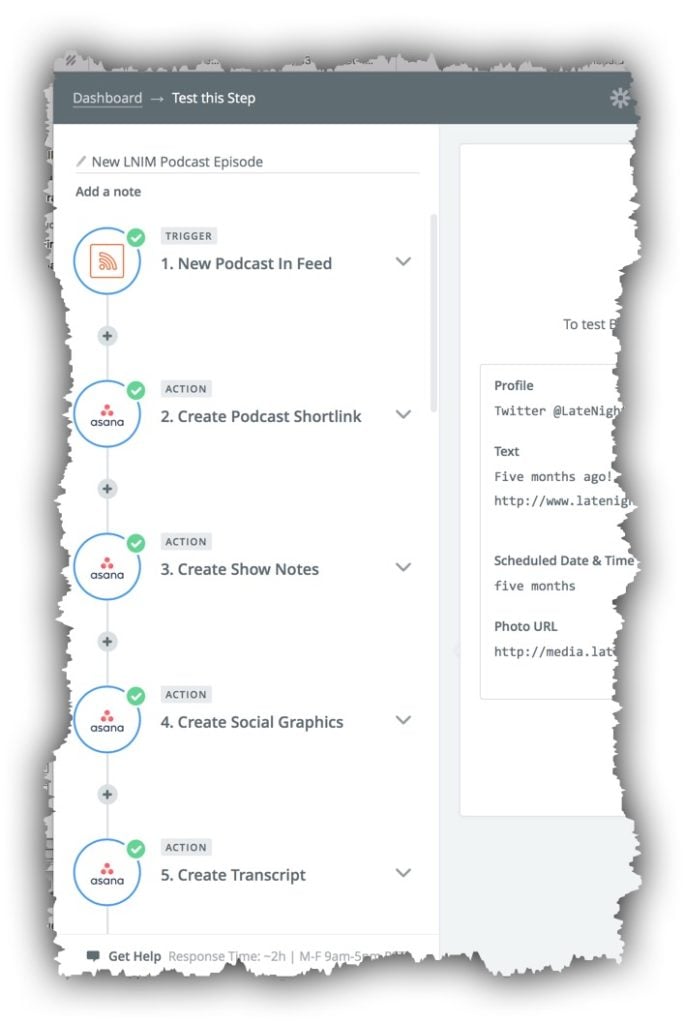 I promised you a screen shot of Ulysses. You can see the three columns and you can see that in this picture I am actually typing this very sentence! How cool is that? The application is really growing on me, and I am starting to use it for more and more stuff.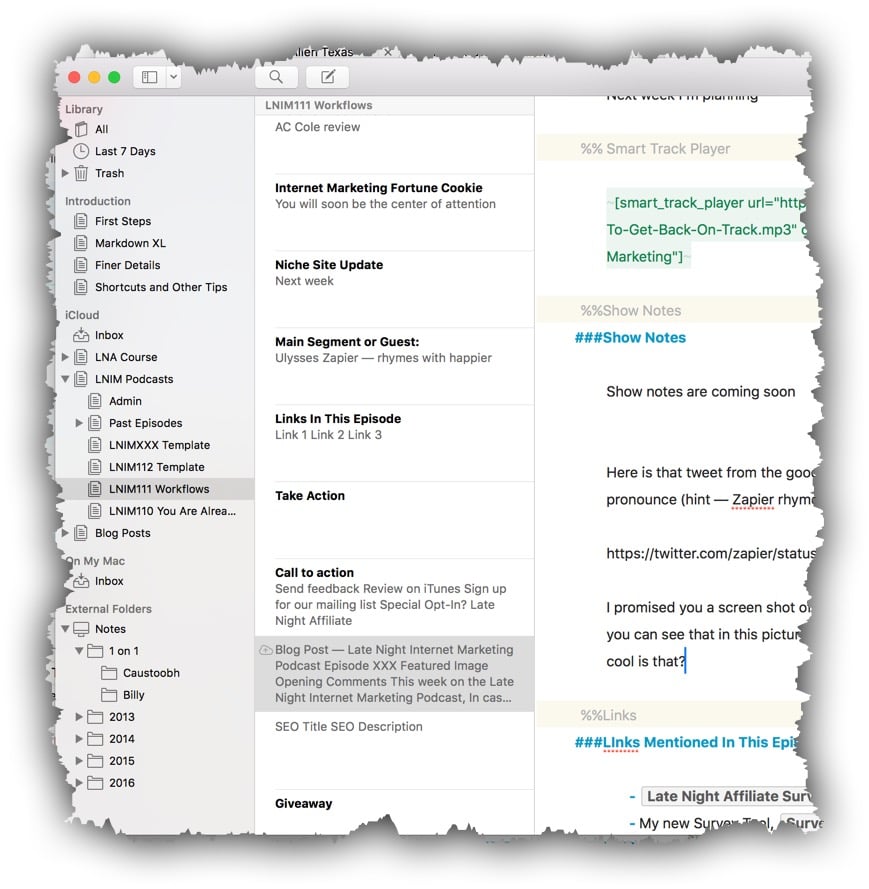 LInks Mentioned In This Episode
Want More Late Night Internet Marketing?
Help Me Help You
The more I hear from you about your struggles, trials and tribulations, the more I can help. So, be sure to leave comments on this post to reach out to me on Twitter @LateNightIM or on the LateNightIM Facebook Fan Page.
I'd love to hear what you think about the podcast. Better yet, I'd love to answer your question about Internet marketing on the show. Just drop me a line here on the blog or on the digital recorder at 214-444-8655. Don't worry, there are no stupid questions. Unless you tell me not to, when you ask a question or leave a comment might even use it on the show.
Help Me Help Others
Thanks so much for your reviews on iTunes. We get a ton of exposure from iTunes, and we really appreciate the reviews there. At last count, we were over 100 reviews worldwide and counting. Reviews help us get new listeners — so I really appreciate you taking the time to leave a review. To leave a review, just go to latenightim.com/itunes and follow the instructions. Thanks!
Transcript
It has been a very busy week here at Late Night Internet Marketing headquarters. It's just a home office in my house, it's not like a big headquarters like at Apple like the big circular spaceship that they're building. It's just me. But I'm getting a lot of stuff done, which makes me really happy.
Particularly, I'm making a lot of progress on the Late Night Affiliate course. I have made significant progress particularly in understanding what people might want to see in the course. For those of you that spent time on Skype or on the regular phone with me, I really appreciate it. Those calls were very helpful. Thank you so much. These were people out of the Beta part of the program that took the time to sit down on the phone with me for half an hour and talk about the kinds of the things that they had seen in affiliate marketing courses before, the things that they liked about online courses, the things they didn't like, the things they wanted to see. That was a huge help.
All of this is coming out of the validation part of Courses that Convert, which is Amy Porterfield's course. I'm really very impressed with the quality of content of that course. It gives me something to strive for in the creation of my own course. Thank you guys very much for doing that.
Now, stage two of this validation is a little survey. I'm going to ask you, even if I talked to you on the phone, if you've got a minute to fill out what is actually a four minute survey about affiliate marketing, what's bugging you in affiliate marketing, and what things you would like to know about. That would really help me out.
I'm going to use the answers from the survey for two purposes. One purpose is for research for the course, to make sure I'm on the right track with the Late Night Affiliate Course. The other purpose, which is going to be very important for you, is that I'm going to use that for ideas for content in future episodes. If you could take four minutes of your time to go over to LateNightIM.com/affiliatesurvey and complete that, I would really appreciate it.
I'd also be interested just in hearing your feedback on what you think of that survey tool. I decided to ditch SurveyMonkey and use SurveyGizmo. I did five minutes of online research about what the alternatives are for SurveyMonkey because the price point for SurveyMonkey to get the branding off of it so that I could return the surveyor back to my website and get control of the thank you page was just too high for what I needed to do. So I started looking around and it turns out that SurveyGizmo gadgetry is really nice and it looks great on a mobile phone. If you go to LateNightIM.com/affiliatesurvey and do that on your mobile phone it looks fantastic. I can export the data. It's just really nice. I think SurveyMonkey is toast for me, after using it for 15 years, and I'm just going to use the new guys on the block because offering is very impressive and priced right for me.
I'll tell you that's happened to me again recently with ConvertKit, that's something we're going to talk about in a future episode here where I was using Aweber for years and years and they kind of went to sleep and new competition came along, which is great for the marketplace, and displaced them. We'll be talking about that in a future episode.
Right now I want to get to a little listener feedback.
(Episode 111 Transcript Continued…)