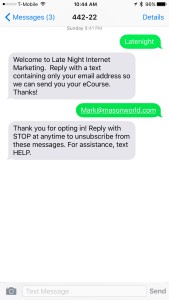 Just before Christmas, a couple of my sites got hit by a Google thin content penalty — the dreaded Google Manual Site Action.  Immediately, the Corn Sheller site (which we have talked about many times before) went from page one ranking for its keywords to page six.  I talk about what I plan to do about it, and how I plan to share the results.
I also talk about my plans for 2016, which include a lot more content for Late Night Internet Marketing.  This will mean more podcasts, more posts, more videos and more new letters.  It should be great for readers, listeners and viewers.  If you want to be part of that, you can sign up on the sidebar at the right, or you can text the word "LATENIGHT" to 44222
Links Mentioned In This Episode
AWeber, the email autoresponder that I use
Convert Kit, the email autoresponder that I was thinking about
LeadPages — awesome lead capture software I use
Show Notes
Here are the highlights of the things I have shared in this episode:
– 250 pieces of content: This translates to 50 episodes of LNIM, 100 episodes for Internet Marketing Minute, 50 solid written content and 50 videos.
– My auto responder: When I look at my email list, I feel I don't do a good job at delivering value. For 2016, I will create 12 e-courses that people can opt in to and get awesome information that will end up putting them in my list.
– Create "The Late Night Niche Site" – I'll figure out exactly what I'll do and I'll keep you updated!
Our Corn Sheller site is under attack! I share a much dreaded 'thin content notification' email from Google Manual Site, the blunt message it contains, how it made me feel and what it could mean to you as well.
Key takeaways from our Corn Sheller cautionary tale that you should employ especially if your cash cow can be defined as a site with thin content.
My plans in cleaning up the Corn Sheller site from SEO, removing duplicate content, creating more unique content to expanding the site by adding other topics so we can all learn from this experience.
Want more Late Night Internet Marketing?
Leave Us A Review In iTunes
Thanks so much for your reviews on iTunes. We get a ton of exposure from iTunes, and we really appreciate the reviews there. At last count, we were at 30 reviews and counting. Reviews help us get new listeners — so I really appreciate you taking the time to leave a review. To leave a review, just go to latenightim.com/itunes and follow the instructions. Thanks!
Send us your feedback
As always, I'd love to hear what you think about the podcast. Better yet, I'd love to answer your question about Internet marketing on the show. Just drop me a line here on the blog or on the digital recorder at 214-444-8655. Don't worry, there are no stupid questions. Unless you tell me not to, when you ask a question or leave a comment might even use it on the show. When the transcript is available, it will be here with all the other Late Night Internet Marketing Transcripts. If you are lovin' the podcast, please be sure to leave us some feedback and subscribe in iTunes! Podcast Alley is another option: My Podcast Alley feed! Here is the Raw RSS Feed.
Episode 097 – Google Manual Site Action Transcript
This week on the Late Night Internet Marketing Podcast we're podcasting standing up, it's very exciting. We're going to talk about all the stuff that's coming for you in 2016 from me and we're going to talk about the total smack in the face that I got from our friends at Google in December and what I plan to do about it. It will be good for you in case it ever happens to you.
All that and more on the Late Night Internet Marketing Podcast….
I hope that you are having an absolutely fantastic time, I hope that by now you've seen Star Wars and you've had the opportunity to listen to Episode 96 from last week. Spoilers contained in that episode so I warned some of you off, but I hope that you've had a chance to see it by now. Surprisingly, I looked at going to see that again this weekend, it's been out for a month now, and it was still sold out at the time that I wanted to go here in Dallas, I was really surprised. I'm thinking Disney is making some decent money on this whole Star Wars investment, it seems like a high ROI opportunity for them that they seem to be cashing in on.
It is true, I am podcasting standing up. For some reason I just felt like standing up. Recently at my day job we did a huge renovation to the office building in which I work. I'm in a building that's two million square feet and we're renovating every square foot of the thing and I got a new office. In this new office, because I have kind of an amazing fantastic day job employer that really actually cares about employees, I have a standing desk.
It has a programmable button with three levels. I actually have three levels programmed; a sitting level that is ergonomically correct for typing, a meeting level for meetings when I have someone sitting across from me in my office, and a standing level which is ergonomically correct for standing. In fact, they even sent an ergonomics guy in to meet with me to help set the desk and make sure that it was exactly correct for me and my elbow height.
So I've been standing up a lot and I thought, "Stand up podcasting." I have a fantastic mic stand and it just slides right up and I can stand up podcasting. I know from singing, I've been singing since age 9 or 10 when I had my first solo, that standing is better because you don't compress your diaphragm. So here I am standing, I'm fired up about it and it's great to be on the mic.