This is the much-awaited second part of 2-part series on how to do niche keyword research.  In this episode, we talk about how to judge competition, and apply the 80/20 rule to our keyword analysis.  But before we get into that, I talk a little bit about where I've been in the last few weeks, and where the show is headed.  Finally, I have a tool tip for you.  It's a mind mapping too that I have been using to plan the show.
This Week Around Late Night IM
It's been a while since my last podcast.  I've been working on some day job projects as lot's of changes around work have been demanding most of my attention.  I've also been a little lazy this summer.  Special thanks to all of those that have come looking for me.  Good news — this may be my last "big break" from podcasting ever.  More on that is this episode as I discuss my plans for the future of Late Night Internet Marketing.
One cool things is my new main list (Auto Responder) content — launching soon.  Check it out today by signing up in the sidebar to the right.  New content launches July 20th, 2013 (so sign up now).
Internet Marketing News
Of course some big news since the last time we talked is the closure of Google Reader.  We discuss that, what a feed reader is good for, why Google Reader closed, that my favorite alternative — Feedly.
How To Do Niche Keyword Research (Part 2)
Our main topic for this episode is How To Do Niche Keyword Research.  This is part two of a two part series.  In the first part (episode 057) we discussed how to find potential keywords, and how to determine their popularity.  In this episode, we'll talk about how to judge the competition.  In other words, will we be able to rank for the keywords that we found in part one.
When analyzing competition, I usually apply the 80/20 rule.  Where SEO is concerned, the 80/20 rule means that you really need to look at back links when judging competition.  We discuss that (and how to determine the number of back links) in some detail in the episode.
Internet Marketing Tools
We also talk about this week's internet marketing tool — iThoughtsHD.  It's the tool that I am using to outline the show.  Mind maps are a a great way to organize your thoughts, and also make great speaking notes for podcasting.
You can see the mind map for this episode here: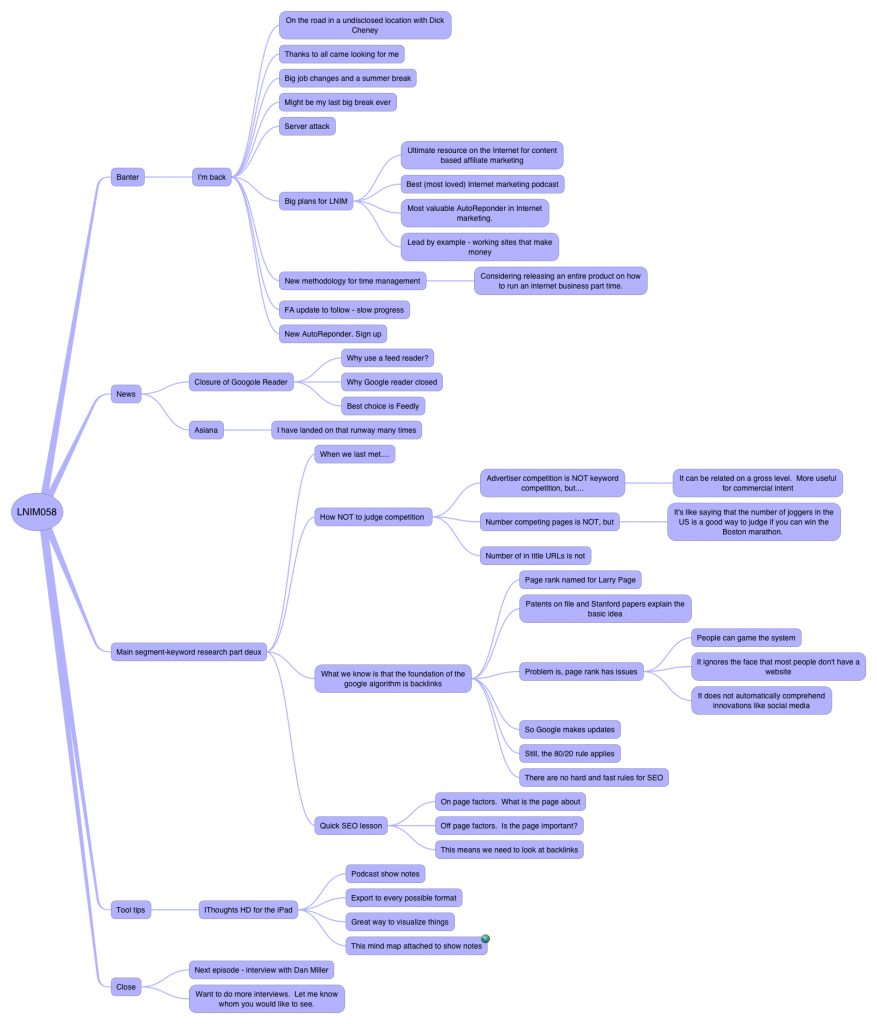 An Outline Of The Episode
Banter
I'm back

On the road in a undisclosed location with Dick Cheney
Thanks to all came looking for me
Big job changes and a summer break
Might be my last big break ever
Server attack
Big plans for LNIM

Ultimate resource on the Internet for content based affiliate marketing
Best (most loved) Internet marketing podcast
Most valuable AutoReponder in Internet marketing.
Lead by example – working sites that make money

New methodology for time management

Considering releasing an entire product on how to run an internet business part time.

FA update to follow – slow progress
New AutoReponder. Sign up
News
Closure of Googole Reader

Why use a feed reader?
Why Google reader closed
Best choice is Feedly

Asiana

I have landed on that runway many times
Main segment-keyword research part deux
When we last met….
How NOT to judge competition

Advertiser competition is NOT keyword competition, but….

It can be related on a gross level. More useful for commercial intent

Number competing pages is NOT, but

It's like saying that the number of joggers in the US is a good way to judge if you can win the Boston marathon.

Number of in title URLs is not

What we know is that the foundation of the google algorithm is backlinks

Page rank named for Larry Page
Patents on file and Stanford papers explain the basic idea
Problem is, page rank has issues

People can game the system
It ignores the face that most people don't have a website
It does not automatically comprehend innovations like social media

So Google makes updates
Still, the 80/20 rule applies
There are no hard and fast rules for SEO

Quick SEO lesson

On page factors. What is the page about
Off page factors. Is the page important?
This means we need to look at backlinks
Tool tips
IThoughts HD for the iPad

Podcast show notes
Export to every possible format
Great way to visualize things
This mind map attached to show noteshttp://lnim.co/058
Close
Next episode – interview with Dan Miller
Want to do more interviews. Let me know whom you would like to see.
Leave Us A Review In iTunes
Thanks so much for your reviews on iTunes. We get a ton of exposure from iTunes, and we really appreciate the reviews there. At last count, we were at 30 reviews and counting. Reviews help us get new listeners — so I really appreciate you taking the time to leave a review.
To leave a review, just go to latenightim.com/itunes and follow the instructions. Thanks!
Send us your feedback
As always, I'd love to hear what you think about the podcast. Better yet, I'd love to answer your question about Internet marketing on the show. Just drop me a line here on the blog or on the digital recorder at 214-444-8655. Don't worry, there are no stupid questions. Unless you tell me not to, when you ask a question or leave a comment might even use it on the show.
When the transcript is available, it will be here with all the other Late Night Internet Marketing Transcripts.
If you are lovin' the podcast, please be sure to leave us some feedback and subscribe in iTunes!
Podcast Alley is another option:
Here is the Raw RSS Feed.
Episode 058 Transcript
Hey everybody. It's Mark Mason. You may remember me, I used to have a podcast on internet marketing. Okay, I'm back. A lot of people have been saying, "Hey Mark, where have you been?" Of course, the answer is I've been in an undisclosed location with Dick Cheney. If you're old enough to understand that reference then you're probably too old to be listening to this podcast.
It's really great to be back. Thanks to everybody who came looking for me, I really appreciate it. I got some nice messages on Facebook and other places saying, "Hey, where's the podcast?" I really appreciate that. I got some testy messages. Chris, you know who you are. I'm just kidding. I really appreciate those messages, they encourage me and they're the reason that I do the podcast. I say this all the time; there's no show without you guys. For those of you that came looking for me, I really appreciate that.
Lots of stuff going on outside of Late Night Internet Marketing. Some of you know from following me on Facebook that there have been a lot of big changes in my day job over the last six months. I think I finally have a lot of that wrestled to the ground. I'm still working in the semiconductor industry for the same company, but my job responsibility has changed massively.
I'm doing something completely different, something that I've never done before. It's technically very challenging and literally it was the kind of job where on day one you don't even know what all the words mean. In fact, you don't know what most of the words mean and when someone says something you ask a question and you have to ask two more questions to understand the answer. That's sort of what I've been working on and dealing with in that regard. And that's a good thing. It's opened up a lot of new areas for me to grow my career, but I find it very challenging. So that has been distracting me.
Also, it's summertime. You know how that goes. Kids are out of school, we've been spending time going to the pool and going on vacations. In fact, I've been doing some traveling with work. It's just been a little crazy. I'm on the road right now recording on my Edirol mobile voice recorder.
So that's what's going on right now. I've done a lot of thinking about where the show is going to go from here and I'm ready to make a bold prediction that may make some of you happy. This long break of six weeks, or however long it has been since the last show, will probably be my last big break in content for a long time, maybe ever, because I've made some decisions about where I'm going to go with Late Night Internet Marketing and the show. We're going big or we're going home.
I was thinking about this over the last couple of days. I've been dealing with another server attack, a second one. This one out of Russia. The last one was out of China, the Chinese Syndicate or some 13 year old with a script, I'm not sure. This last attack was a Russian bot net, hard attack directly at WordPress.
This wasn't really a traditional denial of service attack from what we can tell. It was somebody attacking my websites – 30 or 40 of them, many of which were on the same server as Late Night Internet Marketing – and it just took the server down. They were basically hacking the WordPress login. Of course I have things in place to keep them from being successful, but that doesn't stop the traffic. Once the traffic overwhelms the server, you're just basically hosed.