This week on the Late Night Internet Marketing Podcast, I talk about how to finish the year strong. We all started out with grand plans this year. In many cases (for example, in my cases especially), those plans just didn't pan out the way we planned. Hey, I get it. life happens.
A couple of weeks ago, we talked about how to get back on track by leveraging the "Science of Achievement." It's all boils down to realistically assessing your situation and moving forward toward a new vision. When you do a realistic assessment of this year, you suddenly realize that there are three entire months left!
The question is, what are you going to do with that time? That's what we discuss in this episode. I reveal a number of steps that you can take to finish they year strong.
In case you missed it, last week I discussed discussed Copyright Law as it applies to affiliate marketing. Be sure to check it out — I gave you some homework in that episode that you need to complete (if you haven't already).
And stay tuned for next week — I'm planning on choosing a domain name for the Late Night Niche Site. I'll take you through the entire process.
I hope you enjoy this week's episode and that this helps you finish the year strong.
Show Notes
Here are the highlights of the things I have shared in this episode:
Internet Marketing News: Last week, we talked about the chatter around the Google algorithm updates and some signals did intensify this week and there were indications that there are more fluctuations in Google which has not settle yet. But as expected, Google's Public Relations team wouldn't directly comment. These changes aren't something you should be worried though so stick to the same advice that I have given: concentrate on making great content and don't worry so much about Google algorithms.
What is your two-minute drill for 2016? With three months left in 2016, will you push to accomplish what you planned? Or just coast through the rest of the year just to be done with it and just start again next year? It's great to look forward to next year but why not hit it with a running start by ensuring that this last quarter ends with a bang? Here are tips to finish this year strong:

Totally forgive yourself – There is no time for self-doubt or self-flagellation so forget about that. Once you acknowledge where you are and own it, move forward.
Stop procrastinating – ignore television shows, ignore sports, ignore your distractions and do something about your goals.
Start small – have small wins. Finish those few easy, annoying tasks to get them off of your plate.
Get your space cleared – unclutter. Whether the clutter is from your hard drive, your inbox, your physical desk or your mind — get them out.
Reconnect with your goals and decide what you can own from today until the end of the year – Be realistic. Take into consideration the holidays and other legitimate obstacles and figure out what are those that you can actually do.
Leverage on your support teams – let your mentors, Mastermind groups, etc. know what you are doing.
Amplify your opportunity for success by making incremental increases in your health and fitness – start small, maybe walking 20-30 minutes every morning to get your brain going or committing a certain number of steps in your Fit Bit or Apple Watch.
Put together a plan – take your original plan and modify it to fit your current timeline.
LInks Mentioned In This Episode
Here's that picture of me and Gary Vee — the time when he grabbed the cell phone to fix it before I took the picture.  I have to admit, I was a little star-struck for just a moment.  This was at Social Media Marketing World in 2016 (this year).  Gary was really nice about the selfie in a cool, low-key way.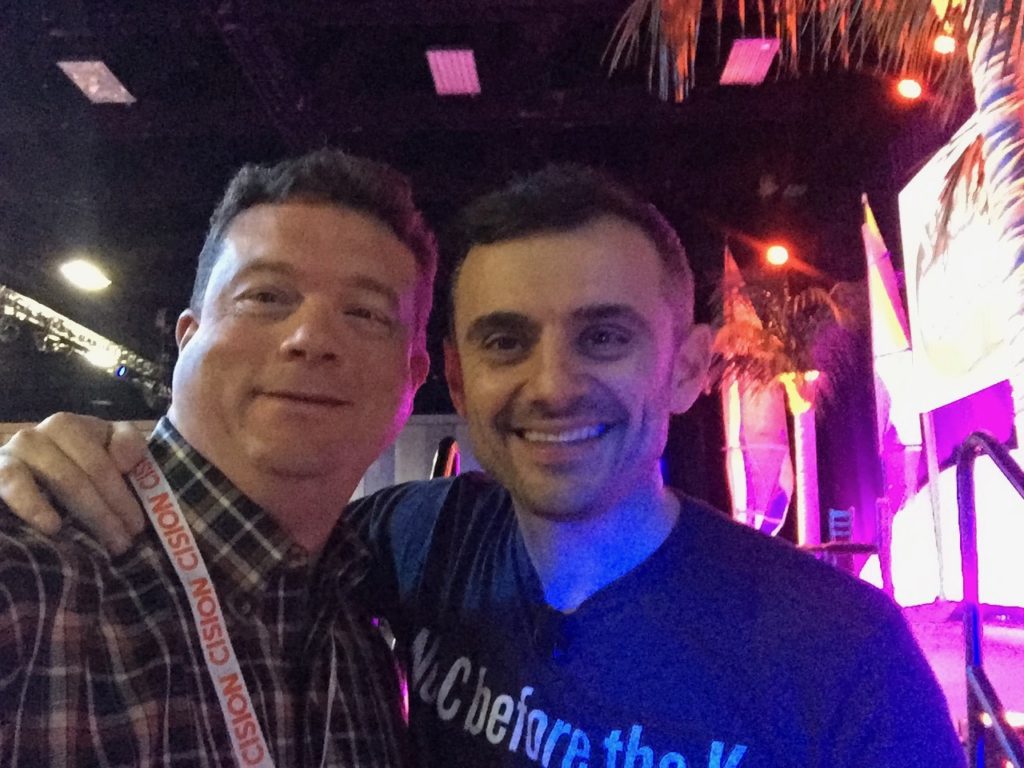 The original video from Gary Vanerchuk – a portion of which was used in the episode.  Note that there is some language in this video that is not kid friendly.
Want More Late Night Internet Marketing?
Help Me Help You
The more I hear from you about your struggles, trials and tribulations, the more I can help. So, be sure to leave comments on this post to reach out to me on Twitter @LateNightIM or on the LateNightIM Facebook Fan Page.
I'd love to hear what you think about the podcast. Better yet, I'd love to answer your question about Internet marketing on the show. Just drop me a line here on the blog or on the digital recorder at 214-444-8655. Don't worry, there are no stupid questions. Unless you tell me not to, when you ask a question or leave a comment might even use it on the show.
Help Me Help Others
Thanks so much for your reviews on iTunes. We get a ton of exposure from iTunes, and we really appreciate the reviews there. At last count, we were over 100 reviews worldwide and counting. Reviews help us get new listeners — so I really appreciate you taking the time to leave a review. To leave a review, just go to http://www.latenightim.com/itunes and follow the instructions. Thanks!
Episode 107 – Finish The Year Strong Transcript
I hope everyone is doing fantastical. That's not even a word, I just made it up especially for you. I hope you enjoyed it more than I can possibly imagine. I am your host Mark Mason right here at Late Night Internet Marketing and I am hoping that you did your homework from last week.
I asked you to identify something that you needed to this week and email me about it. I've gotten an insufficient number of such emails. Part of that is because I'm recording these episodes a little bit far in advance, so that's cheating, but you guys really need to get on it, get some stuff done. Email me, let me know what's going on, talk to me about the challenges that you have and the progress that you make.
You can email me at [email protected] and I'll answer every email. I'd love to hear from you. Tell me what your challenges are, what's going on, talk to me. Get that homework done, very important.
This week in the Mason household we suffered a tragic loss on the baseball diamond. We got our clocks cleaned by a superior force. In Texas we say some days you're the bug, some days you're the windshield. We were definitely the bug on Saturday, losing that contest 16 – 2, which made us all a little bit sad.
But, it's really the impetus for this episode. We need to be finishing strong. Not just you and me in the internet marketing world, but 9 and 10 year old kids who are getting smacked upside the head in a baseball game need to finish strong as well.
I noticed a difference. Some of the little athletes on my team understood that the game was out of reach and they didn't quit. We held those guys up as examples because they fought hard, they kept pushing, they never ever quit.
Which is also the Texas Rangers marketing motto, "Never ever quit," you can find that hashtag all over Twitter. Sometimes when you never ever quit you come up really big at the end. We had other kids on the team that once the game was out of reach, they were checked out and made even more errors and made the situation worse.
You may feel a little bit that way about your business. I know, like me, you had amazing plans for the unstoppable force that you were going to be in 2016, all the stuff you were going to do. If you're smart and you were using SMART goal methodologies, you were even writing this stuff down. If you're like me, you've got sheets in Evernote about all the stuff that you were going to do.